AF GeoWebBoard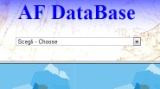 AF GeoWebBoard is an available web space for all those technicians, researcher and students looking for an opportunity to make their papers known to the users world.

FIELDS:

Environment Engineering

Applied and research hearth Sciences

Landscape Architecture

Underground exploration Technology and methodology

Geochemistry

GIS Applications

Others...

AF GeoWebBoard offers free Web Space for paper for 6 months (max 1Mb)

---

HOW TO PUBLISH:

If you like to publish your work, download the
FORM, fill it and return it together with paper to be published and author/s information.
Authors information must contains full name, telephone/fax or email; such data will be published together with paper (optional)
Paper will be accepted only if clearly belonging to environmental geosciences fields.
Papers will be published within 15 days.
HOW TO SUBMIT PAPER:

Paper will be published (*.html) as received. If more than one file please indicate the start one.

Downloading:
Downloadable packages different from html must be prepared in the preferred format and sent zipped